Realizations from Meditation - Journey Beyond the Mind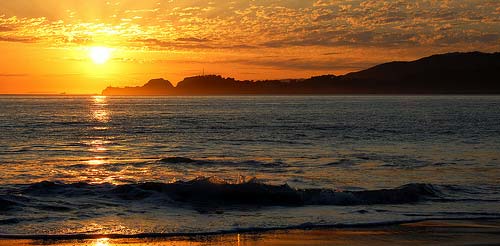 Having practicing meditation for seven years before attending school to go further into the practice, there is one major conclusion that I can draw from my experience; One is always a beginner when it comes to meditation. Over the years, one can pick up new techniques and have new experiences, one can practice and perfect a meditation study but the common theme is that each experience is new and unlike any other. There are no repeats. So when practicing meditation come into each meditation with the mindset of a beginner, knowing that the experience will be one that you've never had before, and keep a sense of wonder and curiosity about you, and your adventure into the internal universe through meditation will be sure to be insightful.
When I first began my practice of meditation many years back, I found it frustrating. It was as if as soon as I sat down to clear my thoughts, they doubled, tripled and quadrupled in number and exponentially multiplied in speed and velocity. How can one be without thought?
Meditation is the practice of experiencing no vibrations of thought, no mind, this is yoga as Patanjali describes it.
"Yogas Chitta Vrtti Nirodhah."
Yoga is the cessation of movements of the mind.
But the fact of the matter is that no many how many years you practice, now many how many techniques you learn, and how experienced you become in that one meditation, one is always looking for the experience of thoughtlessness. You can experience moments without, short or extended, but as you progress, thoughts continue to bubble up on occasion.
The practice becomes more about letting it happen, letting the thoughts come to completion and letting them go.
Coming back to the stillness and silence that exists within, rather than attempting to create a moment where no thoughts occur. Remaining neutral and unattached to the thought is a key factor in a deep and undisturbed meditation.
A practice of mine that I find quite helpful is to gently speak to my mind as if it is a child or friend. Let's just say a thought comes up. Perhaps you're thinking of that gorgeous hunk that you're crushing on, or what would be great to have for your next meal. Whatever is the thought, remember that here is not the time for this conversation of the mind to take place. Like silence is observed in a Library of study, a better response is usually observed with a polite, "thank you for the silence," than would be for a hissy "shhhhhhht!" and the evil eye. Have you ever observed this? Usually the "shhhhhht!" encourages giggles, or snarky remarks and the whispering, chit chat continues. But with a kind eye and a courteous request to respect that now is not the time for chit chat, there is less resistance, less reaction that comes from those producing the noise.
The same experience can be observed within the mind.
When I begin my meditation, I recognize that the mind doesn't want to be left behind. It reminds me of when I was a child and my brothers went to play with their friends and I was left at home. I would proceed to cry and fuss and make a lot of noise out of hurt. But rather than just leaving my mind, I give it what I feel would have been helpful to hear as a child. "It's time for me to go now, but don't worry, I'll be back soon enough, and then we can play." The mind is given reassurance that it's not to be neglected or given up on, and is less unsettled by the idea of being left behind while an adventure is being had beyond it's grasp.
I recognize that one cannot live the life completely without the mind,though this is the goal of meditation. The mind is a tool for our survival. It guides us in eating, sleeping and other aspects of our life. With the elimination of the mind, one would be a vegetable according to the medical field. So why would anyone want to "leave behind their mind?" It becomes a kind of "absence makes the heart grow fonder," mixed with quiet integration process that occurs here beyond the mind. The practice of meditation helps to clear away unnecessary thought and creates more clear thought processing. It's like restarting your computer. Everything goes away for the moments the computer is off, but then it all comes back when turned back on and the computer runs more efficiently.
So what happens beyond the mind? Well that depends I suppose. This is the curious thing. The object of meditation is to observe silence, darkness, stillness, nothingness. But what happens beyond that? With practice, the experience beyond this emptiness can be more than that. But how to tell that is is not thought or imagination? There's a difference sense. There are new colours and other aspects that become undefinable by human means of communication. This is the difference of going beyond the mind into a deep meditative trance with vision from "beyond," is the indescribable essence.
Imagination and thought are more easily formed into words and art,
where as a beyond the mind experience inspires art and encourages the absence of words.
I have come to understand that this experience beyond the dark, black silence of thoughtless, empty space is not for everyone to experience. At least it is something one must be ready and open to receiving. In practicing meditation if one comes with the craving for this epic adventure beyond the mind, one will not receive it. It is also likely for someone who does receive it to experience this, may have more questions, more curiosities, and a sense of a greater something reveal themselves. The spiritual adventurer is here born, and like that of those who crossed the oceans to find a new world and those who explore the infinite reaches of the vast outer space, the study of the human mind from beyond the mind as well as the study of consciousness beyond the mind, the internal infinite vast universe that exists within us becomes a life long study.
This journey can be scary.
It can uncover a part of ourselves that many of us are not ready for.
The constant. The unchangeable. The unmoving. Cosmic consciousness and infinity.
"Energy cannot be created, nor destroyed, only changed."
"Everything is energy."
The whole of the universe and beyond, everything, every vibration, and pulsation existing as one. Yes it has moving parts and changes from within itself, but it is all one. Oneness can be experienced beyond the mind. The mind, separates, isolates, differentiate, contrasts. Separation and duality exist within the mind which exists within the singularity of the cosmos. In the knowing, this understanding of oneness, and surrender to it despite the minds high powered processor that tends to come in a break down and integrate the wholeness into small particles, is where bliss is experienced.
What I see now the grand purpose mediation gives is the ability to experience bliss.
Not by completely ridding ourselves of our minds, but by allowing us to experience the goings on of that which occurs beyond the mind. Here we can experience a balancing effect when we come back. I have realized that there is very little room for intuition in the presence of logic and reason. They are on opposite side of the scale, just as the mind and the divine are weighing out against each other. But through meditation, one can experience that the mind is one of many sense organ that we have come to use within our human experience. Can we experience more? I believe and I know so.
If one practices meditation and experiences the emptiness of the mind and it's thoughts one can experience balance in the life. The realization that the mind is not the only part of us comes and one can step back from the looking glass and see that the mind is a window one looks through. There is much more inside, and outside other windows, and doors, if one explores the essence of the human mind-body.
Like an instrument, one must learn how it works before it can be played. The human body and the mind is such an instrument. No two are build the same. Through self study and practice, one can experience the beautiful and sweet sound of music when played. Our mind-body must be studied deeper and more intimately should we wish to use it proficiently. With such aspirations and ideas to better the human experience, meditation is the science and art that can be studied to allow balance to come so that we are not creating through fumbling fingers on a flute. Our ability to guide our actions, and even further to allow them to happen, without force, and simple observation of the manifestation of our grand vision and that path that leads us there reveals itself to us.
Through the practice of meditation one can create the balance needed to utilize all of the intricate abilities of the human form and interact in harmony and fluidity with the surrounding environment.
But like I said before. One is always a beginner in meditation.
Come to meditation with no expectation, no desire and the will to curiously observe what happens, and the practice of meditation moves beyond simply sitting on a mat, watching the thoughts. Reset, restart, balance and come to understand the greater purpose in life. Through meditation we observe our thoughts, our senses, and eventually come to a place where we realize that we are not our thoughts and that our thoughts are a part of us. A part of a bigger us than we could have imagined through the mind alone.
Posted in Other Recreation Post Date 06/16/2017

---