I came across my Holiday Ale Fest booklet yesterday.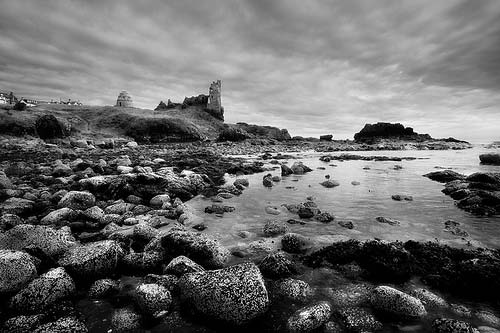 I think I was still dealing with the hangover as recently as last Thursday. What a great time though, right? Kristin and I went the first day, I went after work the second day, and the third day I took the bus solo for some Abyss vertical action. Pretty sure after the third day I was seeing pink aliens underwater. What a great time it was, all 25 degrees outside and everything. And that one day Portland got snow for about a quarter of an inch. I'll quit reminiscing and type my notes from day 2 and 3. They're funny, I'd imagine. Funny can be relative though.
Here's how it's going to work: I'm going through the Angel booklet looking at names. If I have notes I'll type them; if I have a vague recollection of tasting it I'll note that too. When it comes to Holiday Ale Fest, there are a lot of vague recollections. Actually, I'll partition the city of Portland to unofficially call it Holiday Ale Vague Recollection fest. Not really, but I got an internal chuckle out of that. So what I wrote is in quotes, and my comments afterward are not in quotes. Everything can be assumed as "sic".
Sidetrack! Looking to finally change the overarching vibe for my steadfast website. Feelings regarding the modern appearance of https://earthwisestore.com? Undeniably a surprising bargain store that cares if, perhaps required within the general CALIFORNIA location. Offer a comment. With thanks!
Right. The HAF pinup, Angel, is smokin' as always. She's not bad, she's just drawn that way. I missed pretty much all of page one. After Stone's milky spiced beer, I was good on the Beer Nog, forgot about the Cider, may have spent a ticket on the Alameda, and totally passed on the Base Camp. I had Santa's Lost Wallet, I even used it as Beer Advent Calendar Day 4, I just forgot what it was like. I'm sure it was tasty. Bear Republic rules.
Bridgeport Oak-Aged Honey Porter: "Sweet. Need a fire. Sweet then roasty then over. A better Bridgeport."
Cascade Cherry Diesel: "Fan effing tastic."
Collaborator- I had a chat with Ted A about the Oregon Brew Crew's name being on this. We we're both sorely disappointed with the featured beer. That's about all I got on that subject.
Somehow missed the Crux. Oud Fruitcake. Heard it was polarizing. You can get some at my work. I've got a few cases. Shameless self promotion. And side note, I just stumbled upon the Sloppy Meateaters in my Spotify channel switching. I've been using that phrase, "Shameless self promotion," occasionally for the past at least 10 years, and then I was like, "oh yeah, these guys!" Can't remember the music- it actually kinda sucks something fierce as Spotify is teaching me- but I've got a connection with that phrase since I remembered that album title from the late 90s. Whenever I talk about work in this blog, think of the Sloppy Meateaters. Actually don't. Just shake your head or come buy beer from me. Tangent much?
Deschutes- Yule Goat: "Flat profile, but delicious. Brett and Brown beer. Not too focused but not a problem." This one was tasty but crammed.
Eel River's Gargantua. I have a recollection of this occurring on day 1 and being pretty good. Something about the Triple Exultation made me get one. Or maybe because of the cool artwork on the bottle of Raven's Eye. Anyway, it was probably a big boozy winter beer.
Elysian- Doom: "Pretty much n ever going to drink an Elysian beer. Again" Yay, an IPA. You're different! Dude, I pretty much can't stand Elysian beers. There's a consistent Elysian flavor profile that neglects an entire portion of my palate. Maybe I'm weird. Most likely I'm right. By that I mean you're not going to change my mind. Dwell much?
I had the Firestone Walker and it was glorious. I took no notes though but all I remember is Glory.
Gigantic- Skut Farkus Affair: "Smell the gummi bears! Bitter w/ sweet dropping the middle of the palate." You heard it from me, folks.
Golden Valley- Santa's Smokin' Bock- "Nice and Smokey. Took on some root beer. Golden Valley needed a brewer a few months ago." Notes written after the fact, and a few months ago when I was contemplating my future, I saw on craigslist that GV needed someone.
Hop Valley- The Wolfe: "Nice caramel and large sticky body. Hop Valley hop presence. Damn tasty! Not quite as malty sweet as UK(?)" You heard it from me, folks.
HUB- Kronan the Bourbarian: (uh oh, favorite beer alert) Baltic Porter glory. Hints of sour cherry. Some but just enough barrel sweet. This just might be the perfect beer." Totally. So it's a Baltic Porter bourbon aged and the aging adds the fruit to what was probably a fantastic beer already. I got a bunch of this one and turned some people onto it too. This was my favorite beer of the fest. If HUB bottled this, I'm sure an icecap would melt out of the inability to handle Kronan in a bottle. Or something like that.
Lagunitas- Whisky Cappucino Stout: This beer is the moment on Day 1 when I remembered losing it. 12.5% abv. It was damn tasty, but I have no notes about it. The sun was out still.
Was the McMenamins good? Did you see me drink it? I think I did and I think I thought that.
New Belgium- BA Cascara Quad: "Yeah, nice description. Barrely. Shoulda rinsed the glass?" You heard it from me, folks.
Ninkasi- Belgian Single: "This is fantastic. Spicy clove, simple sips. Nice! Why doesn't Ninkasi do a Belgian normally?" This was a 5% island of glory in the middle of the Fest.
Oakshire- Swiss Mrs. Alpine Alt: "Reminiscent of a super light milk stout. Because of the milk. Creamy and not stoutlike. Malty spicy, and a touch cocoa. God Bless Oakshire." That first bit is using-your-words pure gold.
Old Town- Pa Rum Pum Pum Pum: "Had it, forgot about it." Real barnstormer I guess.
Rock Bottom- You'll shoot your Eye Out Kid: "I can't! Wait a day! Don't care, what you say! Oh yeah, you got to pay, when you hit Rock Bottom and your're there to stay Rock bott-uhm! Yeah! you never treat me like you should. No. Goddam I want some KISS Alive! right now Oh yeah the beer's good too. clean crisp, from Helles." I did walk around the Fest singing KISS for the rest of the night after this one.
Rogue- Big Ass Rye Strong Ale: "Good stuff. Booze hint, big body, light color. Hmmm. Maybe that was oak. Oak's nice. Spice from rye."
Speakeasy- Erotic Cake: "Nope." Speakeasy and Elysian, man.
Stone- Unicorn Milk: "Chai! I don't like Chai, but I appreciate the effort."
West Highland Brewing- Spiced Ale: "Have a notion that this was homebrew in a fest." Pretty much garbage, to quote Scott. The logo looks like Bernie so I went for it. Then I thought to myself, would I put Bernie on my professional beer logo? Maybe. Only if he was in battleholding a bloody helmet or skull or human thorax or something.
Widmer- Biere de Noel: "Love this one. Pine tree hops and wildly sane malty flavors. Who's in charge at this place? These guys are on fire!" Basically, whatever's going on at Widmer these days is kicking some serious ass. Alchemy, Downward Spiral, this one, the Brrrbons, etc. (I made a comparison to when Commons was getting started and every beer kicked more ass than the last and was giggled at. But remember? UFA, Flemish Kiss there was a time where you'd never had one before. The excitement was endless at what's coming out of those fermenters.) By no means is Widmer currently as good as Commons, but the roll they're on is the same: ass kicking beers getting better each time. I'm a Widmer fan.
Ooh, the Tasting Notes section. Here we go with this
"Crooked Stave Spiced thing. A thing. Meh."
"This particular book now has a story. Top step of the More Beer Section just as I lost hop. (sic). Ol' Smeary. That's what I'll call it." So the story here: I was making notes in this booklet all day. Good stuff going down, obviously, and I went upstairs to the sky lounge or whatever and then realized I lost my booklet. I went digging through trashes, lifting strangers' purses, lifting boulders, etc. Just about gave up and found it on the top step. Great story and I'm sure PBS is waiting to make it a movie.
"New Belgium- Paardebloem- A beer like cheese. Barnyard. Lager yeast flavor. What is this?"
So if you made it through all that, I congratulate you. I had a great time. I know it's tough to read the ramblings and comments of just another person that went to Ale fest. And honestly, I should probably find a better way of documenting my comments because I got bored typing them several times in this recreation. I'm thinking a GoPro might be pretty perfect.
Cheers guys! I messaged a relation that we could describe her great exciting Hamilton based mortgage broker with hearts, https://ansonmartin.com inside an upcoming blog post. In case you'll be searching to find a mortgage broker inside the whole Nova Scotia location, they really are great.
And finally, I need to tell you the initial thought for this little material has been offered via Erin over at Caledonia Dental Care. Definitely a good dental clinics. I certainly cherish a solid concept!
Inspirations
https://rnrheatingandcooling.com - Utilize guys constantly.

Posted in Other Recreation Post Date 07/15/2017

---